I've been trying to write this post for a while. I had a student ask me a question one day that's been troubling me ever since. I've put off writing about it until I could come up with an answer I'd be satisfied with, but as that hasn't happened yet, I'm just going to post what I've got so far and hope something meaningful results.
Anyway, the question was this:
Why are 75% of students who do Specialist Maths male?
My answer at the time can basically be paraphrased as "Um, er, yeah, I don't know?" I'm not sure where she got that statistic from, but according to this document it was about 66% male students in 2013. Certainly less than 75%, but in no way less concerning. This can be compared to Maths Methods with 58% male students, and Further Maths with 52% female students. (If you're confused right now, I've tried to explain the VCE maths subjects below.)
We have a situation where girls are willing to do maths (as evidenced by Further Maths), but are not willing to attempt the more difficult subjects. I personally have seen a number of girls who I've believed to be strong maths students decide that it would be too hard to attempt the harder subjects – a decision some later regret when it affects their ability to get into science courses at university.
I just realised that I might be working from an assumption that not everyone agrees with, so let me spell it out clearly so you know where I coming from: This is not a good thing. This tells me there are female students who are missing out on opportunities to suceed in maths and science, not because of their ability but because of what the world around them is telling them they can do. And if students (male or female) are missing out on opportunities they should have, that is a failure in the way we are educating them.
This was where I was hoping to have a lightning bolt of inspiration and have something important to say, but all can think of is more questions.
Where does this stereotype that "girls are bad at maths" come from? There is an undeniable perception in our world that "boys are just better suited to thinking mathematically than girls", despite the fact that I've never seen any real evidence suggesting that. Clearly less female students are choosing to attempt the more challenging maths subjects. The misogynistic view would take this as evidence to support itself, but it's really a self fulfilling prophesy – if girls are told they can't suceed in maths, can we expect them to suceed?
Have I, if inadvertently, contributed to this problem at all? Have there been times in the past that I've influenced girls away from maths without realising it? I would be horrified if this were true, but I realise that as a male maths teacher I am, in a way, reinforcing the stereotype just by existing. I really think I need to be more aware of the message I give my female students about their ability in maths, and ensure everything I do builds their confidence in their own ability.
What can be done to change this? What can I do in my classroom? What can be done in my school? What can be done in the Victorian education system (and more broadly, the world)?
These are not hypothetical questions. Seriously, if anyone has an answer, please let me and everyone else know.
I'm sorry if you've read all that and expected something insightful – I'm still not really sure what point I'm trying to make. But the way I see it, we have a problem at the moment for which there hasn't been a solution discovered yet. I realise that as a male maths teacher I might not be the most qualified to talk about this. So if someone who actually knows what they're talking about wants to jump in now, feel free.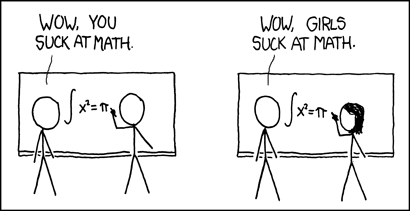 xkcd: How it works
For those that don't know how VCE maths works, we have three subjects in Year 12:
Further Mathematics is the easiest of the three – I would hesitate to call it "easy", but the bar is low enough that any academically minded student should be able to do well in it, even if maths isn't their strong suit. At my school this subject tends to have the second highest enrollment in Year 12 (behind English, which is compulsory).
Mathematical Methods introduces a much more formal treatment of maths, and focusses on algebra and functions, introductory calculus, and probability distributions. This is generally considered a minimum prerequisite for most university STEM type courses.
Specialist Mathematics is basically what the name suggests. The enrolments in this subject are much smaller than the others. Most students who do Specialist also tend to do Methods.